We sell GPS receivers in 5 types. Each type has different benefits and different issues to consider.
G-Mouse GPS Receiver
This is a small unit that looks like PC mouse. It can be connected to a PC/Laptop or a PDA with the correct cable which is normally a USB cable. Some of our USB GPS devices come with a USB cable, and for others you need to select the correct cable from our large range. So please check before ordering.

This device is waterproof and has a magnetic base, and comes with a 1.5m cable so it can be used outside. It does not need an external antenna and none is available.
Compact Flash GPS Receiver
CF (Compact Flash) GPS Receivers are great for both in-car usage for street routing applications, or for out of car use like for walking or hiking.
With our optional PCMCIA to CF converter you can use the compact flash receiver either in any PDA with a CF slot or in your Laptop. The Best of both worlds. These systems are usually compact, but do run on the power provided by your Pocket PC or Palm (or Laptop), so if you know that your average battery power for your PDA is say 5 hours, in most cases you will only see around 2-3 hours use with GPS Receiver. You could connect your PDA to a car cigarette lighter.
An optional external antenna is available and highly recommended for in car navigation. It has a 3m cable and a magnetic base so it can be easily fastened to the roof of a car.
SDIO GPS Receiver
The SirfStar III SDIO receiver works in any Pocket PC with a SDIO slot that conforms to the B-Square specification (which most do). It is very compact and takes it power from the PDA. It is very sensitive. It comes with an antenna booster mainly to shield it from RF interference from built-in Bluetooth and WiFi transmitters. An optional external antenna is also available and recommended for in car or marine use. It also has 512MB of memory built in - enough to save your maps etc so you can use the slot for storage as well as navigation.
Bluetooth GPS Receiver

Our Bluetooth GPS receivers have their own battery source, so unlike the GPS Sleeves and CF GPS Cards they do not drain the Pocket PC or Palm's internal battery. They are the most flexible unit we sell, as they can connect to not only any Bluetooth enabled Laptops or PDAs but also many Bluetooth phones such as Nokia Series 60 or Sony Ericsson P800/P900. They have a built in rechargeable battery (charger included) that lasts 6-18 hours depending on the model. Car chargers either come with the unit or can be purchased separately. The difference between our various models is their sensitivity. The battery life is also a factor in the cost differences.

The GlobalSat BT338 was the first reliable Bluetooth GPS using the SirfStar III chip. It is still very popular but the later BT359 is faster to get a fix, more reliable and a bit lighter. If size and weight are important then consider the Holux GPSlim240 as that is the lightest Bluetooth GPS that we sell.
The GS-R238 and GPSlim 236 are Bluetooth GPS units that can also be connected via a cable making them a dual function Bluetooth/GMouse unit. The ultimate in flexibility. We also offer several other Bluetooth GPS units giving you an unparalleled choice.
GPS Tracker and Data Loggers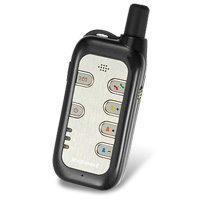 We also supply a wide range of GPS tracker and Data Loggers. These are useful for recording to your tracks for playback on a map later (or tracking where vehicles and boats have been!) The TR102 even has built in GPRS (when equipped with a SIM card) so that it can track a person, vehicle or boat in real time. See where it is on a map instantly! These devices are used by taxi companies, emergency services, for securing high value items and to keep an eye on what your friends, children or employees are up to.